Each space in a hospital requires a different level of monitoring. Some rooms necessitate observing a variety of parameters while others only need an indication of pressure. No matter the requirements, Setra offers a line of pressure monitors to fit any room.
Setra FLEX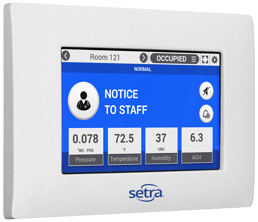 FLEX is an environmental room pressure monitor and controller. With a flush-mount faceplate and intuitive 7" graphical display, FLEX can meet any architectural requirements. A modular hardware design enables FLEX to fit in various wall thicknesses around the globe. For applications with wall depths less than 50mm, FLEX can be ordered with an external pressure sensor. The faceplate is attached to the unit body, allowing for both tamper resistant operation and easy pressure calibration. Configuration settings on one unit can be cloned to other devices using a USB.
Monitors: up to 3 rooms, 6 parameters per room
Parameters: pressure, temperature, humidity, air changes, and 2 user-defined
Communications: BACnet IP, BACnet MS/TP
Alarms: audible, visual
Works Best For: operating rooms, isolation rooms, compounding pharmacies, and all other critical environments and laboratories
Lite
Lite is a simple and cost-effective monitor for displaying the differential pressure of areas that currently require manual verification. Designed to fit into a single gang electrical box, it also provides an optional visual display of pressure. The bright light ring can be seen at an angle or down a hallway, making it easy to see if rooms are properly pressurized.
Monitors: single room, 1 parameter
Parameters: pressure
Communications: analog output of pressure signal
Alarms: visual only
Works Best For: all healthcare ASHRAE 170 spaces and any applications where a simple light is an acceptable safety verification