Setra's latest innovation is the Setra Lite Visual Pressure Indicator. Setra Lite contains a high accuracy differential pressure transducer with an LED indicator, taking our capacitive transducers to the next level and filling a need in applications where a full-featured room pressure monitor is not required.
Setra Lite can replace outdated and unsophisticated technology like a ball in tube or pressure gage, offering more features for the price and reducing the need for manual inspections. Unlike the visual-only function of a ball in tube, Setra Lite's analog output can be directly connected to a building management system or Setra FLEX. Setra Lite incorporates Setra's proven dead-ended capacitive transducer technology, offering superior sensing accuracy and longevity.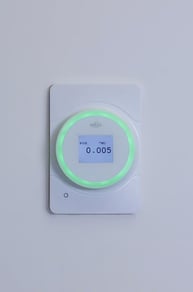 Lighting up the market
Setra Lite is designed to be visible from a distance and as intuitive as a traffic light, glowing red or green depending on the room pressurization status. Underneath the faceplate are three buttons pressure alarm threshold used for configuration. The screen is fully configurable on the device, including:
number of decimal points
engineering units: inches water column, pascals, etc.
ring LED brightness
standby mode
Easy to install and integrate
Setra Lite's integrated differential pressure transducer only needs a 24V power supply and pressure pickup to operate. The reference pressure pickup is integrated into the face of the unit. Setra Lite does not have an integrated audible alarm, but can be tied into a Setra FLEX, SRAN, or building management system based on application needs.
Setra Lite is small enough to fit into a single gang electrical box and stands only 15mm off of the wall. Installation of Setra Lite is as simple as connecting a pressure tube, wiring power/analog outputs, and mounting into the wall.