Data centers exist all over the world, whether they are dedicated buildings or sections of buildings, and each houses computer servers. In the United States alone there are around 3 million data centers. Out of these 3 million, approximately 3,000 are large data centers while the rest are smaller server rooms in businesses.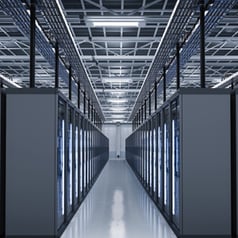 Pressure sensors in data centers are being used to monitor numerous integral processes, including:
Refrigeration lines
Liquid cooling system pumps
Coolant tanks
Fire suppression systems
Rooftop air conditioning equipment
Mechanical rooms
Backup and standby power systems
Setra's Sensors Can Help
To meet the varying needs for pressure monitoring in data center equipment, Setra has a wide range of industrial products.
Setra's AXD covers a wide range of pressures at a low cost and short lead time. The AD has an IP 67 rated enclosure and optional high overpressure protection to help with water hammer effects.
Setra's Model 230 is a true wet to wet differential pressure sensor with a single SS diaphragm providing fast response time and a NEMA4 enclosure.
Setra's Model 256 is a long-lasting, robust pressure sensor with a NEMA4X housing for protection against water and dust ingress.
The 231 provides a calculated differential pressure with integral or remote sensors for flexible mounting options to fit any application. The calculated differential allows for high line pressure applications and Setra's capacitive sensing technology provides high overpressure capability as well.