During a disease outbreak, there are several risks dentists encounter. One serious risk is contracting an illness from aerosol particles created during a procedure. Aerosols are splatters, mists, or droplets in the air, and can include saliva, blood, and plaque. Three main sources of airborne contamination in dental offices are dental instrumentation, saliva and respiratory sources, and the operation site. Aerosol particles can be generated with:
Rotary instruments or air abrasion
Air-water syringe
Ultrasonic scaler
Air polishing
Negative Pressure Spaces in Dental
To make dental spaces safer, it is important to create a negative pressure room for aerosol generating procedures. When creating a negative pressure space, key parameters to monitor include air changes per hour (ACH) and differential pressure.
A portable unit can pull a negative pressure and exhaust the contaminated air. A portable high-efficiency particulate air (HEPA) filter can help reduce particle counts in the air without relying entirely on the HVAC system. Another option to consider is ultraviolet germicidal irradiation (UVGI) to sterilize the air.
Setra Can Help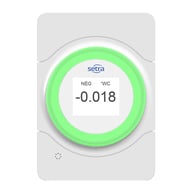 It is crucial to monitor the environmental conditions of a newly pressurized space. Continuous, real-time monitoring and alarming with room pressure monitors can help guarantee the safety of newly created negative pressure rooms. Our most popular room monitor for dental spaces is Setra Lite. Simple to install, Lite is an easy to use and affordable monitor for dental spaces. With an LED light ring offering a bright red or green indication, it is easy to see if the room is properly pressurized and therefore safe to use.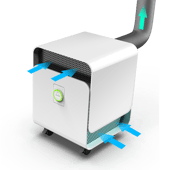 Setra's Negative Pressure Air Quality Module can be used to pull a room not designed as an isolation room negative. It provides safe, reliable, and portable negative pressurization for dental offices and other healthcare spaces. A HEPA filter and UVC light sterilize the air to create the safest possible exhaust, which is then vented out of the room to minimize exposure to airborne particles.