As dental offices prepare to reopen, they must consider new precautions to safely perform some procedures, especially those generating sprays of particles into the air. The most effective precaution is to create a negative pressure isolation room, or an airborne infection isolation room, in which to perform said procedures.
What are Isolation Rooms?
Airborne infection isolation rooms are commonly referred to as isolation rooms. These are single occupant rooms designed to contain airborne pathogens. To prevent the airborne pathogens from escaping, isolation rooms are negatively pressurized and pull air into the room. The exhaust from isolation rooms is then emptied out through dedicated ductwork and HEPA filters.
To know the dental office requirements in your area, check state and local guidelines. For example, the California Department of Public Health recommends "any aerosol generating procedures required on persons with a suspected or confirmed COVID-19 infection should follow best practices and be performed in an airborne infection isolation room."1
Protecting Dental Spaces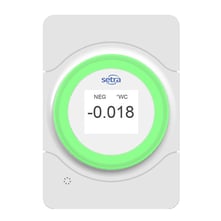 Because of COVID-19, dentists are looking for ways to keep themselves, patients, and staff safe. Creating negative pressure isolation rooms for aerosol generating procedures and then using continuous, real-time monitoring and alarming with room pressure monitors (RPMs) helps guarantee work environments are safe and occupational exposure to airborne pathogens is minimized. Setra's RPMs can ensure that any room is staying negatively pressurized. Setra Lite is our most popular room pressure monitor for dental spaces. Affordable and simple to install, the Lite is easy for anyone to use. The LED light ring offers a clear red or green indication of whether or not the room is negatively pressurized, providing assurance to anyone who sees it that they're in a safe environment for aerosol generating procedures.
Citation:
1 https://www.cdph.ca.gov/Programs/CID/DCDC/Pages/COVID-19/GuidanceforDentistry.aspx