Recently, Setra hosted a webinar presenting the Model AXD. The Model AXD™ Pressure Sensor is the platform for Setra's industrial transducer future. It is the best performing low range and vacuum sensor in this price range on the market.
The ranges of the AXD are designed for a wide variety of industrial applications. Options for pressure range from 1 to 10,000 PSI and 0 to -14.7 PSI. The housing can be made from either 17-4 or 316L stainless steel wetted materials. With specifically designed diaphragms for each pressure range, the AXD is a true low range sensor boasting an accuracy of ±0.25% and a TEB of ≤±1.5% from -20 to 80°C.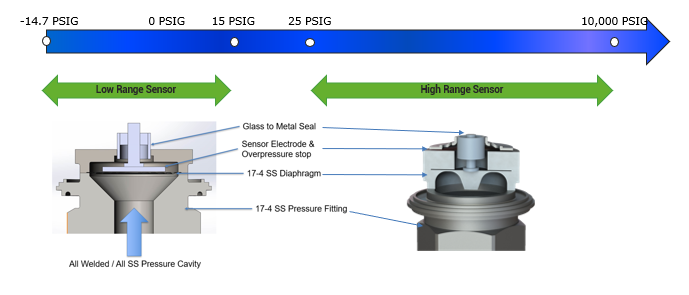 With many mechanical and electrical terminations as well as a small form factor, the AXD has the flexibility to adapt to nearly any application. The robust, IP67 rated design can operate at temperatures of -40 to 125 °C. A patented high overpressure design means the sensor can endure up to 16X proof pressure. The laser welded construction makes the sensor sturdy enough to survive harsh conditions.

AXD accuracy over a range of temperatures
Applications for the AXD include specialty vehicles, alternative fuels, rail, HVAC/refrigeration, medical/dental vacuum, and high performance industrial.
For more information on the durability of the AXD, take a look at Setra's most recent video!