Cleanrooms are among the most strictly regulated critical environments, often continuously monitoring temperature, differential pressure, and relative humidity, in addition to the size and quantity of every particle. Continuous environmental monitoring helps ensure the quality of products manufactured in those clean spaces.
Significant international guidelines requiring the monitoring of cleanrooms:
The FDA's Current Good Manufacturing Practice (cGMP) ensures proper design, monitoring, and control of manufacturing processes and facilities
The EU's GMP provides guidelines for Good Manufacturing Practice across industries and more specifically, the EU's Annex 1 outlines specific guidelines with respect to medicinal products manufactured for human and veterinary use
Monitoring Cleanrooms
Cleanrooms of differing sizes and complexities are found in industries ranging from semiconductor and pharmaceutical manufacturing to biotechnology and clinical research. In these industries, many applications continuously monitor the environmental conditions in aseptic manufacturing areas to demonstrate cleanroom performance for regulatory compliance.
Aseptic processing is monitored in pharmaceutical and medical device manufacturing to prove the environment does not negatively impact patient safety and product quality. Both safety and quality can be adversely impacted if too many airborne particles enter the space.
Turning environmental data into information – such as real-time data visualization, historical trend reports, and alarm notifications – is key for effective monitoring. With this information, it is easier to recognize when issues arise and take action before it is too late. Using a data-driven approach for management of cleanrooms means that without compromising safety or quality, there is less segregated product, less product waste, and fewer interruptions during manufacturing resulting in operational savings.
What is CEMS?
CEMS is Setra's continuous environmental monitoring software that collects real-time data from in room measurement sensors. CEMS turns this input data into actionable information like alarms notifying personnel of higher or lower compliance limits or unwanted events. Along with analytical tools, CEMS stores sensor data and alarm logs for compliance reporting. CEMS accepts data inputs from a variety of measurement sensors: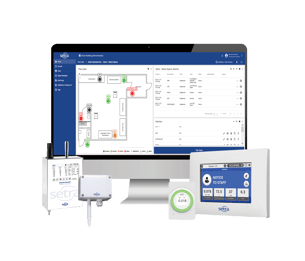 Temperature
Relative Humidity
Pressure
Velocity (ACH)
CO2
Door Opens and Count
Additional custom inputs
Data Visualization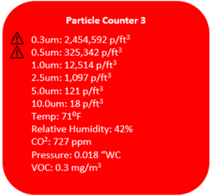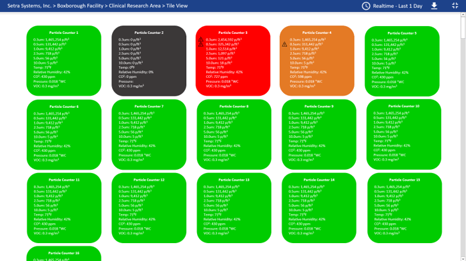 The SetraCLOUD database and web-based dashboards means that users can access real-time environmental data from anywhere at anytime via desktop, tablet, or smartphone. Setra's CEMS Cleanroom application dashboard provides users with a tile view of their cleanroom environment. Each tile view is highly scalable – a cleanroom could have anywhere from 1 to 30 particle counters - and customizable - displaying only the most important data.