Cold storage units are required for many highly sensitive products. Many biological products, such as blood and tissue samples or vaccines, require either low or ultra-low temperature storage. Depending on the type of vaccine, it may require refrigeration of to be stored in a low or ultra-low temperature freezer. Refrigerator storage is typically around 4°C/39°F; low temperature is typically -20°C to -40°C/-4°F to -40°F; ultra-low temperature storage is typically -40°C to -86°C/-40°F to -122°F.
Frozen
Refrigerated

Chicken Pox
Shingles
COVID-19

Most Other Vaccines
Blood Storage
Pharmaceuticals
Accurate temperature monitoring and tracking for any low or ultra-low temperature storage is crucial when a power outage or a forgotten open door can become a health hazard and result in damaged product in monetary loss. For product safety and operator peace of mind, any cold storage unit needs a temperature data logger to ensure an appropriate temperature is maintained. Low temperature data loggers and probes monitoring cold storage units can help prevent product damage and financial losses by alerting staff of too high or too low temperatures.
Wireless Temperature Monitoring with Setra Data Loggers
Setra's wireless data loggers provide accurate and reliable temperature monitoring for cold storage. Wireless temperature data loggers securely transmit data to the cloud with Setra's Continuous Environmental Monitoring Software (CEMS). With CEMS, users can view real-time data and receive temperature deviation alarms via email and text alerts. In addition, each data logger is battery powered and can store up to 32,000 readings, which can help ensure data integrity even with a loss in building power.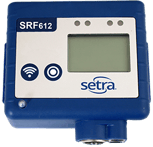 The SRF612 wireless temperature data logger is ideal inside refrigerators, freezers, and incubators. The SRF612 has a range of -40°C to +125°C/-40°F to +257°F.
The SRF614 wireless ultra-low temperature data logger is for temperature measurement inside appliances like freezers, cryogenic tanks, and incubators, and is even suitable for measuring liquid nitrogen. The SRF614 has a range of -196°C to +100°C/-321°C to 212°F.