Put simply, energy management is the measurement of energy consumption and utilizing that data to reduce energy usage and costs. Tracking and controlling data is essential for energy conservation efforts for economic benefits and to meet environmental requirements. Energy management can be useful for all types of businesses to reduce operating costs.
Why Invest in Energy Management?
Energy management can help move any building towards being environmentally friendly, and it is a required component to obtain green and LEED building certifications. As non-renewable energy resources dwindle, energy management becomes ever more critical.
Energy management is also important for businesses looking to cut costs. Energy costs typically make up a large portion of a company's expenses; implementing an energy management plan can help save money with rapid results. As energy costs continue to rise, it is imperative for businesses to reevaluate and better manage the power they use. Since buildings are the largest consumers of energy, insight into their energy usage simplifies improving efficiency, reducing waste, and minimizing excess energy use.
Budget Concerns
Many find it difficult to see past the expense of investing in an energy management program towards the benefits it provides. The ROI of an energy management program far outweighs the costs. The make allocating budget for energy management less difficult, outlining the plan in advance makes it easier to find the necessary equipment.
When creating a budget for energy management, there are several factors to take into consideration. Energy monitoring programs encourage companies to use energy data to reduce energy consumption at peak times and can uncover other savings opportunities. Another option is to participate in a utility incentive program. These programs are becoming more prevalent as utilities plan to spend more on rebates for energy efficiency. Opportunities vary from covering costs for energy efficiency services to funding installation fees. A third option is to plan ahead with your supply contract, allowing for energy management investments to be integrated into said contract.
Implementing Energy Management
To implement energy management, first gather data on the building's energy habits. This data comes from a power meter. Since power monitoring systems run continuously, they provide historical data that can be used as a reference when looking to better manage energy consumption. Detailed data makes it easier to identify areas of energy waste.
The next step is to implement actions to save energy. When energy savings come from behavioral changes, they need attention to ensure they remain effective. Tracking this progress helps sustain ongoing improvements.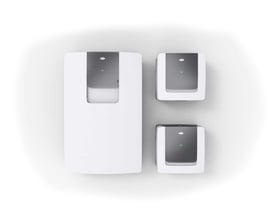 To provide the granular data necessary for successful energy management, Setra's new Power Meter is built on a versatile and powerful platform. The Power Meter comes standard with data logging capabilities, and the web portal software provides the data for up to 62 days.