What does the IP stand for?
IP stands for "Ingress Protection" and is the International Protection Marking per IEC standard 60529. The most common use of an IP rating is how protected a product - such as a transducer - is from a solid or liquid entering the product.
What do the numbers mean?
Following the letters "IP" are typically 2 digits which indicate the level of protection of the product. The first digit indicates the level of protection a product has from a solid - i.e. a finger, screwdriver, or even dust. The second digit indicates the level of protection a product has from liquid intrusion in certain volumes, pressures, or temperature.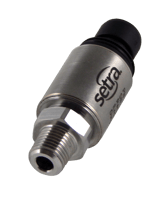 For example, an AXD pressure transducer that is IP67 rated will remain protected and fully operational in most industrial applications, including those where the transducer is exposed to water spray, rain, debris, etc. The "6" indicates the sensor is completely protected against solid objects from entering the sensor, including dust, while the "7" indicates the sensor can be completely submerged in 1 meter of water for up to 30 minutes before the moisture penetrates the housing.
Please refer to the chart below as a quick reference for understanding IP ratings.
IP Ratings Guide
| | |
| --- | --- |
| Solids | Liquids |
| 1 Protected against a solid object greater than 50mm. | 1 Protected against vertically falling drops of water. |
| 2 Protected against a solid object greater than 12.5mm. | 2 Protected against vertically falling drops of water with enclosure tilted up to 15 degrees from the vertical. |
| 3 Protected against a solid object greater than 2.5mm. | 3 Protected against sprays of water up to 60 degrees from the vertical. Limited ingress permitted for three minutes |
| 4 Protected against a solid object greater than 1mm. | 4 Protected against water splashed from all directions. |
| 5 Dust protected. Limited ingress of dust permitted. | 5 Protected against jets of water. |
| 6 Dust tight. No ingress of dust. | 6 Water from heavy seas or water projected in powerful jets shall not enter the enclosure in harmful quantities. |
| | 7 Protection against the effects of immersion in water between 1cm and 1 m for 30 minutes |
| | 8 Protection against the effects of immersion in water under pressure for long periods. |