Setra's MRX series differential pressure transducers are among the most versatile transducers available, combining the flexibility of a multi-range with the performance of a single range transducer. The patented welded capacitive sensors require minimal amplification and deliver excellent accuracy and long-term stability.
The MRX series utilizes a universal design that gives the user total flexibility to make changes on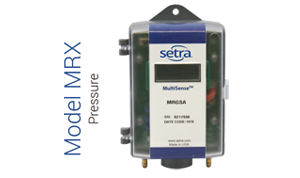 the job site. The user has the option to choose:
Field configurable range
Mounting - DIN Rail, wall mount, or duct mount
Output - mA or volts
Engineering unit - "WC or Pascals
This flexibility means that the MRX series can adapt to meet almost any needs. The MRC also has a universal design that incorporates all 3 configurations in one to take care of any necessary installation changes.
The MRG, MR1, and MR2 have 8 selectable outputs that are easily adjustable on the job. The MRC has 4 selectable ranges and 3 selectable outputs, also easily adaptable. The MRC is the industry's first multi-rage sensor designed to meet requirements for critical environments, available with ± 0.5% FS accuracy and field selectable ranges down to 0.1 "WC.
The MRX series features a very durable enclosure. The MRG, MRC, and MR2 use an IP67 rated housing and the MR1 housing is rated for both IP67 and NEMA 4. A conduit fitting makes installation and wiring easier. Sealed with a gasket, these housings are wash-down capable for difficult applications.