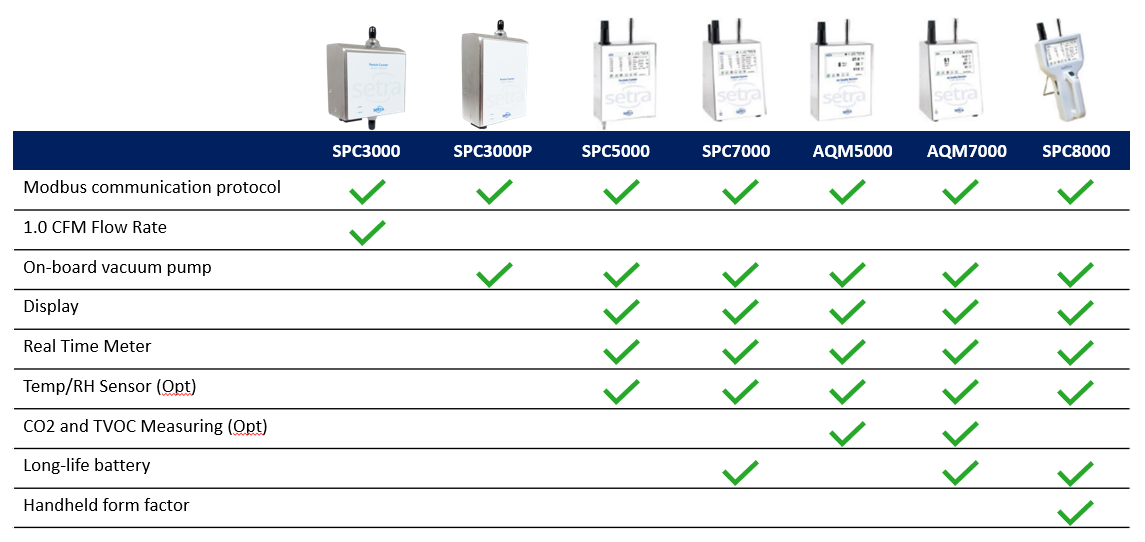 Setra's wide array of non-viable particle counters are used throughout critical environments to measure particle concentrations of various sizes; these counters use a long-life laser diode, light scattering, and photo detector to calculate particle size and quantities as the sampled air passes through. Particle counters are required for cleanroom certification but are also often used for continuous, sequential, or periodic monitoring of the space between certifications and to ensure that particle levels are maintained below critical thresholds during manufacturing. This post will look at Setra's different particle counters and their differences to help you decide upon the correct unit(s) for your application.
Handheld Particle Counters –

SPC8000

Handheld particle counters are perfect for performing spot checks of particle levels in your cleanroom. The units offer a real-time meter allowing you to pinpoint the contamination source within your critical environment. The SPC8000 can measure 6-channels of particle sizes from 0.3um to 25um allowing for the flexibility you need for your specific application. Multiple communication protocols are available, including WiFi, to seamlessly export your data to either your EMS or BMS (learn more about communication protocols here). In addition, these units provide a memory of 45,000 sample records capturing particle count data, environmental data, locations, annotations, and times through customizable "recipes" which allow you to easily store and eventually export your samples. Handheld units are a perfect way to start the monitoring of your cleanroom and can be easily scaled to more permanent remote units as you diagnose the most critical aspects of your process.
Remote Particle Counters with display –

SPC5000

&

SPC7000
These units offer periodic or continuous monitoring of your most critical processes while empowering your operators to take action with visibility of real time particle counts and sampling ability. These units can come with an internal pump for periodic sampling or, if truly continuous monitoring is required, they can be paired with an external vacuum pump. Similar to the handheld units, you have the flexibility to store your data temporarily on the device as well as export across a number of communication protocols. The primary difference in these units is a battery present in the SPC7000 allowing for a back-up in areas with frequent power outages. It is common for these particle counters to be placed throughout the cleanroom at the most critical parts of production so operators can immediately shut down a process if it would lead to a batch loss or product quality issues.
Remote Particle Counters without display – SPC3000
The SPC3000 series offers the same high level of accuracy as the rest of our particle counter offering but, with absence of a display,

provides customers with a lower cost easy to use particle counter. These units are perfect for companies looking for multiple units all monitored at one central system such as an EMS or BMS.
1.0 CFM Remote: The SPC3510 allows for precision monitoring at 1.0 CFM of 2 to 4 size channels. These units are ideal for compliance with GMP Annex 1 which requires a 1.0CFM (>28LPM) flow rate on 0.5um and 5um, continuously run-on Grade A spaces and semi-continuously monitoring for Grade B spaces. Grade A: Zones of high-risk operations:
Filling Zones

Stopper bowls

Areas with open ampoules/vials

Where there are aseptic connections made
The SPC3510 has a compact, stainless steel design that allows it be easily mounted on equipment or under conveyors for precision sampling close to the sources mentioned above.
SPC3X01 & SPC3X01P: These units both have a flow rate of 0.1CFM and can measure both periodically (internal pump unit) and continuously with an external vacuum. Unlike pharmaceutical manufacturing, most facilities do not require 1.0CFM flow rate and can use the more cost-effective and efficient 0.1CFM devices (learn more here). These units have the same accuracy standards as all of our units but, as they lack a display, are intended to be used in conjunction with a monitoring system to provide the real-time readings and alarming. These units are perfect for a facility that has all cleanroom conditions monitored at a central hub rather than by operators within the space.
In addition to particle count levels our air quality monitors provide a further level of monitoring capability to the SPC5000 & SPC7000 units measuring Total Volatile Organic Compounds (TVOC) & CO2 levels. TVOC uses a specific group of VOC's to represent the greater group of pollutants. This monitoring directly ties to the safety of your indoor air and is critical to ensuring your operators safety when compounds may be present in your manufacturing process.
Monitor Particle Count Levels in Your Facility
All Setra particle counters exceed the ISO 21501-4 and JIS B9921 calibration standards and can pair with our Setra CEMS software to aid in compliance with 21 CFR Part 11 requirements. Setra's intuitive web-based Continuous Environmental Monitoring Software (CEMS) offers users a quick and dynamic way to access and drill-down into the data from any device that is being monitored. Whether you are in need of one handheld unit or a full facility monitoring system Setra experts and engineers are ready to support you.