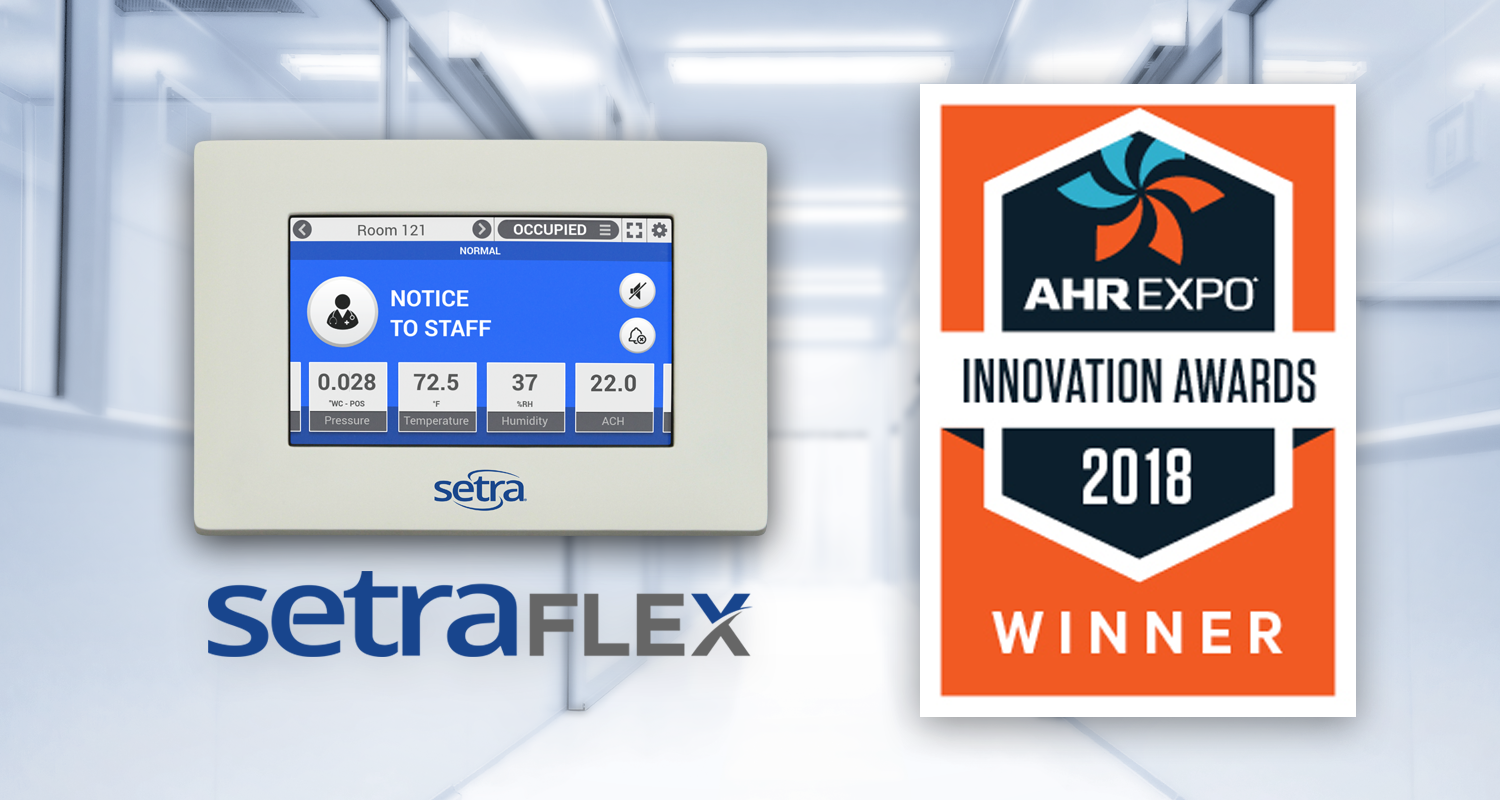 Setra Systems is proud to announce that the Setra FLEX Environmental Monitor has won the 2018 AHR Innovation Award in the Building Automation category.
"Each year, our winners set the bar higher for innovation in HVACR, and this year is no exception," said Clay Stevens, president of International Exposition Company, the producers of AHR Expo. "We congratulate each of these leaders from across the industry and look forward to seeing their inventive solutions in action at the 2018 AHR Expo."
AHR Expo 2018: Award Winners 2018
The AHR Expo (International Air-Conditioning, Heating, Refrigerating Exposition) is the world's largest HVACR event, drawing in more than 2,000 exhibitors and 65,000+ attendees every year. Setra has been exhibiting at AHR for over 30 years.
Meet Setra FLEX™
Setra FLEX™ is used to ensure safe and energy-efficient indoor environmental and ventilation control conditions for operating rooms, isolation rooms, bio-safety laboratories, clean rooms, pharmacies, and many other types of pressurized critical spaces.
"This product represents a year of talking with customers and key stakeholders in the industry and two years of research and development," said Mike Soper, product line manager of critical environments at Setra. "We are extremely excited to bring product to market that will help our customers not only meet and exceed regulatory requirements, but that will also help keep their facilities safe for patients and personnel."
FLEX is Setra's most advanced room monitor and controller and joins a growing family of products designed for sensitive and heavily-regulated environments. Visual and audible alarms are configurable and fully comply with ASHRAE Standard 170, as well as US Pharmacopeia 797 and 800.
Setra FLEX will be recognized in a formal ceremony during the 2018 AHR Expo which will take place on Jan. 22-24 at McCormick Place in Chicago, IL. Setra will be exhibiting at booth #4021 where you can view Setra FLEX in person and speak with our professional experts face-to-face.
CLICK HERE to learn more about the Setra FLEX.