Buildings have a considerable impact on the environment, using energy and other resources while generating potentially harmful waste. To reduce this impact, green building standards now encourage sustainable design. Although a building can be green without receiving green building certification, there are many benefits accompanying this certification.
What is green building certification?
Green building certification is the assessment of building performance with a focus on sustainability. A building receives certification when it meets the thresholds for various environmental and sustainability requirements. Green building certifications can come from a number of certification systems: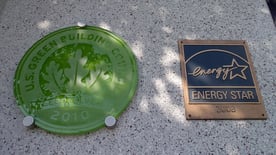 DGNB
BREEAM
LEED
Energy Star
WELL Building Standard
What is LEED?
One of the most widely used green building certifications is LEED. LEED stands for Leadership in Energy and Environmental Design. Internationally recognized, LEED verifies building construction uses environmentally sustainable strategies. Advantages of green building certification with LEED include:
Local and state tax incentives and rebates
Lower insurance premiums
Higher property values
Saved money on utility costs
Higher resale
With such a focus on sustainability, a variety of buildings can work to become green buildings with LEED. Whether a new construction project or a renovation, many buildings can see LEED certification. Examples include:
Data centers housing server racks for data storage and processing
Hospitals providing 24/7 short- and long-term patient care
Schools from k-12 buildings to higher education campuses
Obtaining Certification
Of the factors LEED uses when evaluating buildings for certification, energy consumption and the ability to track it are some of the most important. LEED requires robust and precise energy monitoring, more so than the simple meters provided by utility companies for billing. Any building looking for LEED certification needs to employ power meters to monitor energy consumption at building level. If any individual energy usage amounts to 10% or more of the building's overall yearly usage, then it must also have a submeter.
For minimum certification, data from power meters needs to be logged monthly. Advanced certification has many more requirements that must be met. Meeting these advanced requirements for LEED certification necessitates precision beyond manually logging data from the main utility meter. Multiple energy usage parameters must be monitored so data can be segmented. The power meters used to provide this detailed data must also meet several specifications:
Be permanently installed
Record consumption and demand data at least hourly and be capable of reporting said data hourly, daily, monthly, and annually
Have remotely transmitted and remotely accessible data
Store data in a data collection system for at least 36 months
Use a local area network, building automation system, wireless network, or comparable communication infrastructure for the data collection system
Go Green With Setra Power Meter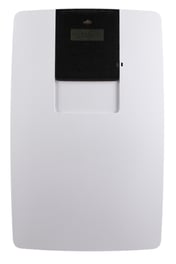 Built on a versatile and powerful platform, Setra's Power Meter is a networked meter designed to meet the demands of any submetering application. All versions are field configurable for standard or Rogowski style current transformers and measure both high and low amperage. The on-board web portal allows for safe pre-configuration of all parameters before, during and after the meter has been installed. The web portal also offers powerful analytics and installation tools directly through the USB or communication connection. Every version of the Power Meter comes standard with data logging capabilities, allowing the user access to the data on the meter for up to 62 days with the web portal software. Multi-load monitoring provides the granularity needed to manage usage at a local level and encourage energy savings.