Industrial spaces include an extensive range of environments. As such, the products used in those spaces are diverse, varying from gauge to compound to vacuum pressure measuring tools. Pressure sensing in industrial applications helps to keep systems working productively. Demanding industrial applications can require customizable solutions for any type of pressure measurement.
Industrial pressure transducers can be used to measure:
Hydraulic and pneumatic pressure
Gases
Coolants
Fuels
Lubricants
Liquids
Refrigerants
Industrial applications typically require high performing and reliable sensing products, and so many rely on capacitive sensors. Capacitive sensing technology is renowned for exceptional accuracy and performance, and when combined with strain gauge technologies can be applied to numerous industrial applications.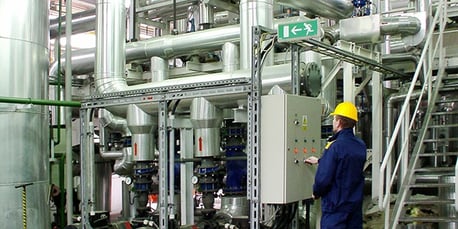 General industrial applications include:
Industrial machinery
Shipbuilding and marine
Turbines
Irrigation systems
Off-highway vehicles
Pharmaceuticals
Oil and gas treatment
Water treatment
Custom solutions for OEMs
This is the fourth post in a series about environments for Setra's products. To see the previous post in the series, click here. To see the next post in the series, click here.