Hospitals and other critical environments contain several spaces that require pressurization. Highly critical spaces require full environmental room monitoring. However, a number of other spaces still require pressurization but do not require a room monitor. According to ASHRAE Standard-170, spaces like this include:
Sterile processing
Sterile storage
Laundry
Endoscopy
Bronchoscopy
Utilities closets
Currently, many of the spaces listed above rely on outdated or inaccurate technology for monitoring. In some cases, these spaces undergo manual inspection with the tissue test or a handheld manometer. Manual inspection is unreliable and can result in improper pressurization of the room and waste more energy. Other spaces depend on dial gauges or ball-in-the-wall indicators. Such technology is very difficult to install properly, as it has to be perfectly level in order to work. Although it may be an accurate indicator, it gives no precise pressure reading, only a visual indication of whether the room is negative or positive. If the room needs to be changed from positive to negative or vice versa, re-configuring these analog devices is complicated and labor intensive. Like the tissue test, ball-in-the-wall and dial gauges are strictly visual and are less efficient because any data must be logged manually.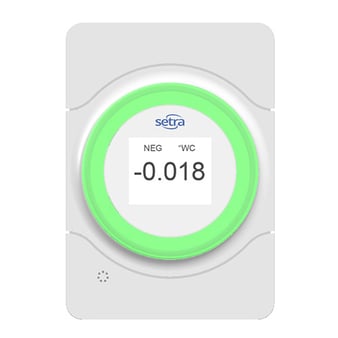 Setra's latest innovation, the Setra Lite™, is a visual pressure indicator that displays the pressure reading on the face of the unit. Built on Setra's legendary capacitive pressure transducers, the Setra Lite is highly accurate and reliable. The analog output provides the building management system or the Setra FLEX™ with the pressure signal for alarming and allows for the logging of data. Install is simple and takes only a few minutes with the Lite fitting into a single gang electrical box. If the room needs to change from a positive to a negative room, the menu buttons concealed by the faceplate allow the unit to be instantly reconfigured.