Compliance with USP 797 and USP 800 are critical for maintaining a sterile cleanroom for CSPs. Proper environmental conditions, as outlined by USP 797 and USP 800, help to ensure the effectiveness and quality of medications.
Environmental control is integral to maintain quality of CSPs. Since humans are the biggest threat to a cleanroom, gowning procedures and meeting air flow requirements are essential to maintaining a sterile environment and ensuring the safety of the CSPs. A gowning procedure must be established in advance to minimize the risk for insufficient gowning and releasing clothing debris and contaminates. Room pressure control is also essential to ensure clean airflow and acceptable airborne particle counts per cubic meter. And without accurate and reliable humidity control, medication potency can be compromised and can succumb to irreversible product destabilization.
Meeting ISO Requirements
One of the best ways to adhere to the USP 797 and USP 800 standards is to make sure the space is compliant with the proper ISO Class, most typically ISO Class 5. The chart below shows the allowed particle counts for each space: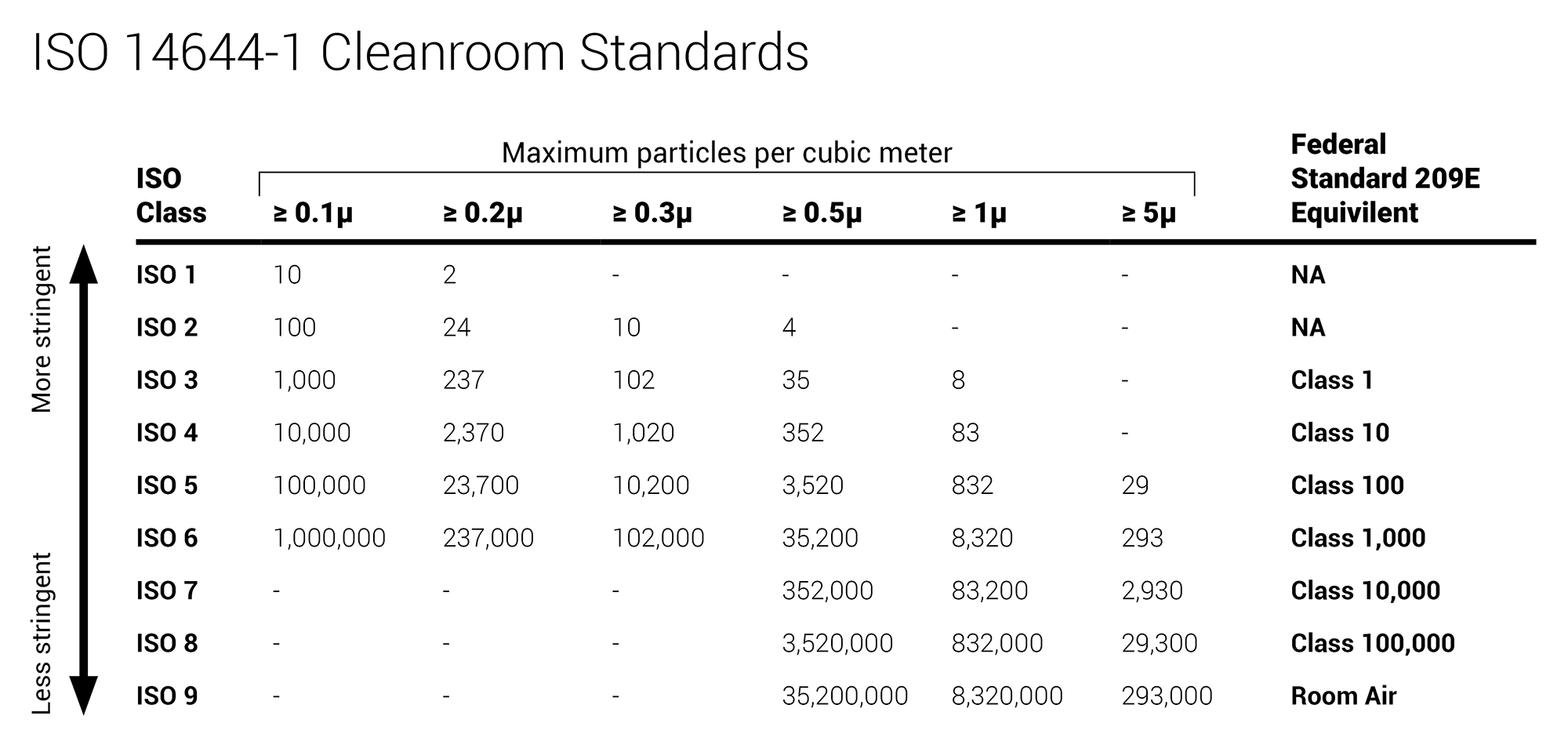 A particle counter is one of the simplest ways to be sure an environment is compliant with ISO requirements year-round, and therefore adhering to the USP standards. A wall mounted particle counter, like Setra's 7000 series, can continuously monitor air quality and a handheld particle counter like the 8000 series is ideal for spot checks.
An environmental monitor such as Setra FLEX is ideal for ensuring a space complies with USP 797 and USP 800. FLEX can provide an in-room monitor to view the humidity, temperature, pressure, and air changes per hour. Setra FLEX provides oversight and control over many aspects of an environment, allowing the user to confirm their space observes all standards and requirements.
Although humidity requirements are not specifically outlined in the USP standards, humidity is an important factor in proper drug compounding as well as worker comfort. Setra's line of humidity sensors has options to fit the needs for almost any space.
The Future of USP Standards
As USP 797 and USP 800 continue to evolve, it is important to choose products with features that anticipate the newest requirements while maintaining compliance with today's standards. Setra's FLEX, particle counters, and humidity sensors have the features and accuracy needed for these future regulations and can be used today for full compliance.
Click to learn more about USP 797 and USP 800.