Now available, the Model AXD™ Pressure Sensor is Setra's most versatile pressure transducer yet. Built for high performance applications, the Model AXD features a patented overpressure stop that allows the sensor to recover from overpressure conditions up to 8x the rated range. With a specially design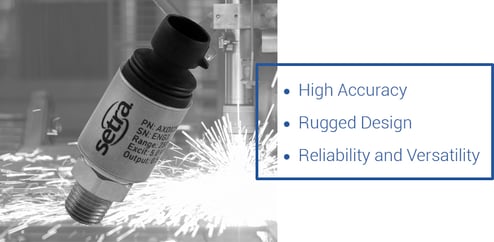 ed diaphragm for each pressure range, the Model AXD can measure pressure from 1 PSI to 10,000 PSI full scale. The Model AXD can operate over a wide temperature range from -40 to 125°C.
An IP 67 rating can be attributed to the all stainless-steel wetted materials and laser welding. The label is etched directly onto the housing of the sensor so the label will not come off, regardless of the conditions to which the unit is subjected. A variety of pressure and electrical fittings allow the AXD to cover a wide selection of installation configurations.
Total error band (TEB) is a concise, all-inclusive measurement of accuracy that accounts for accuracy, zero and span offset, and zero temperature and span temperature offset. The Model AXD boasts a TEB of <1.5% from -20 to 80°C and a long-term stability of <0.5% per year. Few other pressure transducers currently available combine low pressure sensing technology and high accuracy in a standard, configurable sensor.