Apprenticeship Programs: The Solution For More Skilled Workers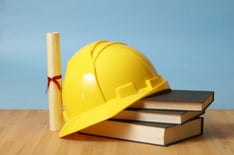 A shortage in skilled labor is a serious issue in United States'
manufacturing industry. Why? There's a misconception of what kind of training someone needs to have in order to enter professions within this industry. Many begin to build their skills through trade school before becoming a manufacturing professional. These students don't always get the proper hands-on training that can truly prepare them for the complex world of manufacturing Yet with these schools, there's still the perception that traditional degrees have more long-term value than vocation training.
The solution starts with looking to with Germany and Switzerland's apprenticeship styled education. Both countries implement training programs that are mutually beneficial for both the company and the worker. Companies across the United States have followed in their footsteps by reeving up programs of their own. Apprenticeship styled programs don't come cheap, and as a result many companies have been deterred from providing young and ambitious students this kind of hands on education. The manufacturer would have to compensate the workers during their training and provide them the opportunity to work for the company after school.
Fortunately, the government has recognized this issue. In 2014, The Department of Labor announced that they've created a $100 million grant to improve manufacturing apprenticeship style education programs across the country.
Last year Secretary of Labor Thomas E. Perez said:
"President Obama challenged us to double the number of apprenticeships in the U.S. over the next five years. I like to call it the other 'four-year degree.'

Registered Apprenticeships combine high standards, rigorous instruction and hands-on experience-all while earning good pay, getting an industry-recognized credential and avoiding crushing student loan debt. In fact, the average starting salary of an apprenticeship graduate is $50,000. And many graduates can transfer skills they learned on the job into college credit-meaning that they can still complete an associate or bachelor's degree, but at far less cost. It's a win-win all around."
Since manufacturing is a integral part of the United States' economy, increased implementation can only benefit domestic companies. Donald E. Oberg, founder of Oberg Industries, has said that after on-boarding an apprenticeship program, "We've seen a triple-digit return on investment from our apprentice graduates even during difficult economic conditions." With new budgeting, the future looks bright for students who want to pursue manufacturing careers.
CLICK HERE to read more on "Why America Has a Shortage of Skilled Workers"
Source: IndustryWeek's "The Kind of Training We Need In Manufacturing"