The HeadStart software is used with the Setra Power Patrol meter. This windows based utility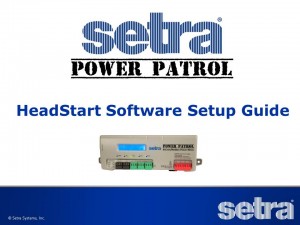 allows you to easily configure the meter prior to field installation by powering the device via USB port or checking real-time values before leaving the job site. This tutorial will take you through the HeadStart installation introduction, meter setup tab, communications setup tab, real-time values tab, read/write registers tab, and firmware tab.
Setra's HeadStart software will help you:
Setup and verify power meter configuration
Switch between Modbus or BACnet communication
Check real-time values at job site
Read and write Modbus registers
Update meter firmware
CLICK HERE to learn more about the features and functionality of the HeadStart software.