NOW AVAILABLE
Setra Model 3550 - Compact Low Pressure OEM Pressure Transducers
The 3550 is perfect for OEMs that need consistent high levels of performance, reliability and stability because of the units small package size with all 316L stainless steel wetted parts at an unbeatable price performance ratio. A wide choice of electrical outputs as well as both electrical and pressure connections means the unit is suitable for most applications without modifications.
The compact construction of the 3550 Series make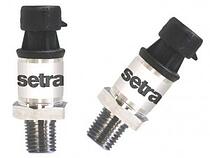 s it ideal for installation where space is at a premium.
Available in absolute, compound, and gauge pressure ranges from 0-15 psi (1 Bar) through 0-200 psi (16 Bar)
Wetted materials are comprised of 316L stainless steel suitable for water and aggressive chemical applications
Low cost MEMS based sensor (Microelectromechanical systems)
CLICK HERE to download the Model 3550 Press Release and Data Sheet.