In the fast-paced healthcare environment, optimizing efficiency and reducing costs are paramount objectives for hospitals. The Setra Lite Room Pressure Monitor offers a cutting-edge solution that streamlines monitoring processes, frees up valuable time, and ensures continuous compliance. We delve into the benefits of Setra Lite, highlighting its time-saving features, simplified setup, significant cost savings, and the ability to maintain continuous monitoring.
Facts That Speak: Proven Success of Setra Lite
The effectiveness and reliability of Setra Lite are evident through its successful implementation in renowned healthcare facilities across the US. Its time-saving capabilities and ease of integration have been lauded, with hospitals reporting significant improvements in operational efficiency and compliance. Setra Lite is trusted by 13 of the top 20 hospitals and 6 of the top 10 children's hospitals, showcasing its widespread acceptance and effectiveness.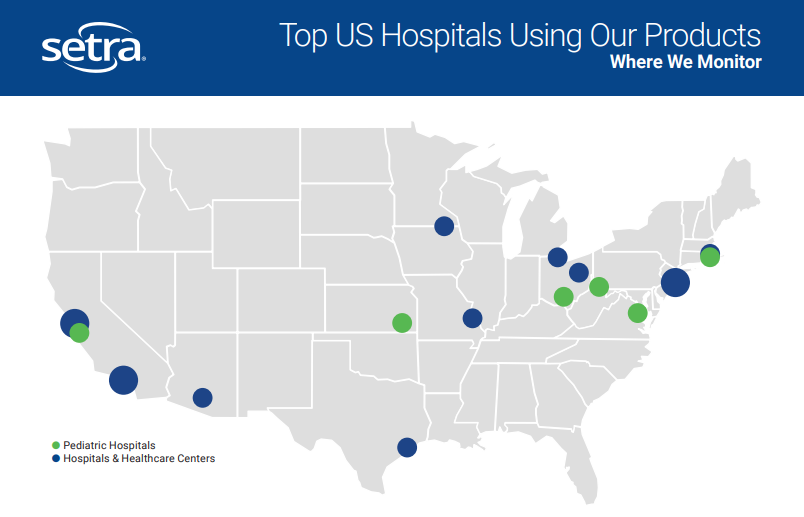 Save Money: A Financially Wise Solution with a Quick ROI
Implementing Setra Lite translates into significant cost savings. For a hospital with 350 spaces, Setra Lite installations can lead to a savings of up to $134,752.08 for simply monitoring non-critical pressurized spaces.* Healthcare facilities can recoup the initial investment in less than one and a half years, making Setra Lite a financially sound choice for those looking to improve overall operational efficiency.
Time Saving: Reclaiming Valuable Hours
Recognizing the value of time, Setra Lite revolutionizes monitoring practices. By implementing Setra Lite, save up to 3 hours per space annually when monitoring non-critical pressurized spaces and reclaim up to 1000 man hours. The Setra Lite modernizes pressure monitoring, reducing the need for manual checks and allowing staff to redirect their time and expertise towards critical tasks.
Simplified Setup: Improved Monitoring Process
The setup process of Setra Lite is both fast and simple. The LITE's proprietary on-board capacitive sensor significantly reduces wiring complexity and halves the time needed to measure, cut, route, and connect tubing to external sensors compared to similar units. This allows hospitals to mount, power, and connect Setra Lite to the Building Automation System in less than 1 hour. Setup minimizes disruptions and ensures that healthcare facilities can swiftly harness the benefits of Setra Lite without compromising valuable time or resources.
Continuous Monitoring: Ensuring Safety and Compliance
Patient safety and regulatory compliance are top priorities in the healthcare industry. Setra Lite facilitates continuous monitoring, providing hospitals with peace of mind and avoiding unexpected non-conformances during Joint Commission Inspections. Through wireless connectivity via CEMS (Critical Environment Monitoring System), access real-time information for each monitored room from anywhere in the world, ensuring that critical pressure differentials are maintained consistently. This proactive approach minimizes the risk of failed audits or inspections while maintaining integrity and safety.
* Considering factors such as the average salary of nurses and facilities personnel, the frequency of manual checks, and the time required for such inspections

Product Link: