For aerospace and defense companies manufacturing critical components, quality assurance is crucial. The slightest defect or particle contamination can compromise the safety and reliability of the final product. Therefore, having the right systems in place to assure quality is essential.
Challenge: Manual Sampling & Certification in Aerospace & Defense in Manufacturing Cleanrooms
To comply with industry standards such as ISO 14644-1, companies need to certify their cleanrooms bi-annually. This requires taking a certain number of particle count samples based on the room's size. Commonly, aerospace & defense companies use handheld or cart-mounted particle counters to take these samples daily, but this method can be time-consuming and may not provide real-time insights.
Solution: Automated Particle Count Monitoring
With a continuous particle count monitoring system in place, warning and alarm levels can be set for each particle size, allowing for corrective action to be taken before having to discard the manufacturing batch. If there are any spikes in particle counts during a production run, additional quality control checks can be conducted to ensure product quality.
An automated monitoring system can provide an audit trail for customers, demonstrating compliance with industry standards and ensuring that the cleanroom was within the correct specifications during the manufacturing process.
Setra offers mounted particle counters and a monitoring software for trend analysis, automated reporting, and text/email alerting. The software is compliant with 21 CFR part 11 and can import customer floor plans to display the locations and status of individual sensors. The system can monitor not only particle counts but also other environmental conditions, such as pressure, temperature, and humidity.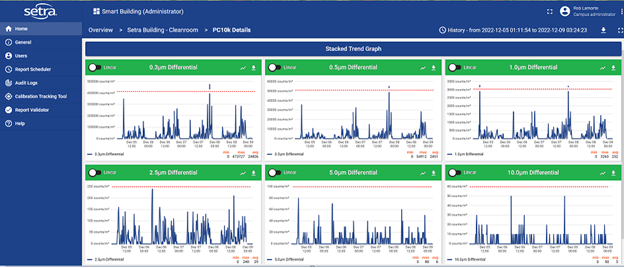 Key Benefits for the Aerospace & Defense Industry:
Real-time insights and alerts

Ability to offer an audit trail to demonstrate compliance with industry standards

Save time and money by eliminating manual or 3

rd

party sampling
If you are interested in learning more about Setra's automated particle count monitoring system, fill out the form below, and a Setra cleanroom expert will contact you.