Isolation spaces represent some of the most critical spaces within a healthcare facility, given the potential harm they can pose to patients and staff if not monitored correctly. These spaces are commonly used to provide care for individuals with compromised immune systems, such as cancer or HIV patients, as well as to safeguard healthcare providers and the public against highly contagious diseases like Tuberculosis and COVID-19. The increased risk of infection from airborne pathogens underscores the importance of maintaining the highest standards of monitoring and equipment reliability. Setra's dependable solutions, trusted by top 5 nationally ranked hospitals across the US, provide the necessary assurance and support to ensure the safety and well-being of patients and healthcare personnel.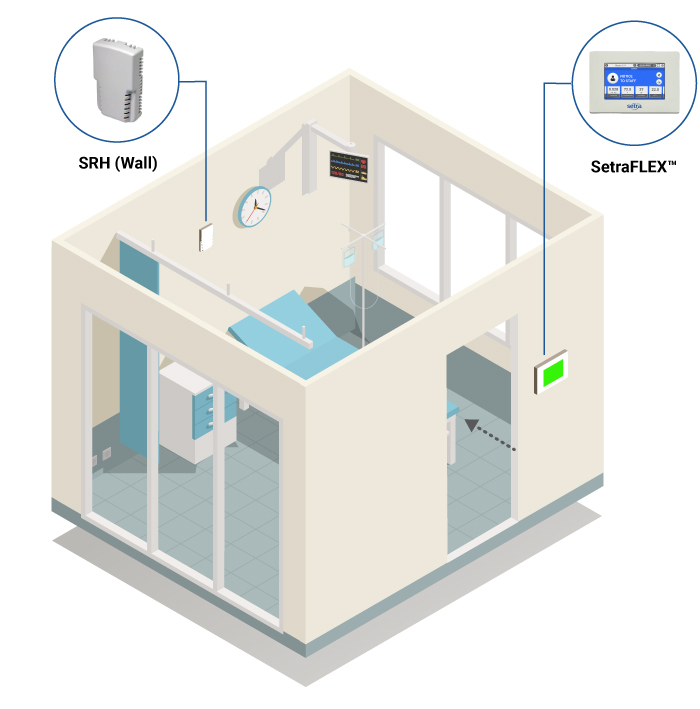 | | | |
| --- | --- | --- |
| Variable Monitored | Solution | Parameters |
| Pressurization to Adjacent Space | Flex/Lite | Negative |
| Pressure Differential | Flex/Lite | 0.01 (INWC) |
| Constant DP Monitoring | Flex/Lite | Required |
| Temperature | SRH1 | 70-75 (°F) |
| Humidity | SRH1 | Max 60 (%) |
**Based off of ASHRAE 170 Standards
Mitigate Risk of infections and pathogens spreading
With the Setra Flex and/or LITE, have peace of mind that your spaces are properly pressurized, patients are safe and comfortable in real time at the point of care.
• By implementing the use of the Flex, you can ensure that the air pressure in the space is constantly maintained to prevent the spread of pathogens and keep patients safe.

• The SRH dual temperature/humidity sensor is a simple wall mounted device capable of transmitting data back to the Flex, for a localized reading and layout of the Isolation Space.

• FLEX and Lite provide easy to use interfaces and warning indication of potential problems to help staff protect themselves and others from infection.
Stay in compliance with Setra Room monitors
Compliance assurance:
Setra room monitors (Flex or LITE) ensure that isolation spaces consistently meet the necessary parameters outlined by ASHRAE170 and enforced by the Joint Commission. This demonstrates adherence to the guidelines, reducing the risk of penalties, fines, loss of Medicare funding, or other negative consequences.

Financial savings:
Setra room monitors (Flex or LITE) automates data collection and reduces manual verifications by seamlessly integrating into any BAS as well as provide real time updates and trending, helping facilities maintain compliance during Joint Commission inspections.

Accreditation Success:
Achieving compliance with the Joint Commission guidelines using Setra's room monitors (Flex or LITE) significantly increases the chances of successful accreditation. Successful accreditation not only enhances the reputation of the healthcare facility but also opens doors to collaborations, partnerships, and reimbursement opportunities, further benefiting the organization.




Other Spaces Setra Covers:
Compounding Pharmacies
Hospital Operating Spaces
Protected Environment Spaces
Noncritical Spaces

Product Links: