There are many major benefits to be gained from the implementation of a Setra Continuous Environmental Monitoring System (CEMS). The use cases shown below exemplify the ongoing value delivered through this secure, highly available, cloud-based, real-time environmental monitoring, alarming, reporting and data collection platform.
Problem Resolution Through On-site/Off-site Collaboration
Monitoring functions can be both local and remote. As part of the CEMS integrated architecture, all information collected and displayed locally can also be gathered remotely. This allows any authorized user anywhere to access the same information shown to operators at the facility through local system device interfaces. Examples include the outputs of Setra Lite Differential Pressure sensors, Setra Temperature and Relative Humidity sensors, Setra Flex Monitors or Setra Particle Counters. In addition, information from 3rd-party devices can be easily incorporated through conventional digital and analog connections as well as open communications protocols such as Modbus and BACnet. Should an organization prefer to host CEMS on premise, that option is also available.
This ubiquitous availability of both real-time and historical information facilitates collaboration between individuals on and off-site to maximize visibility of potential problems and minimize their resolution times.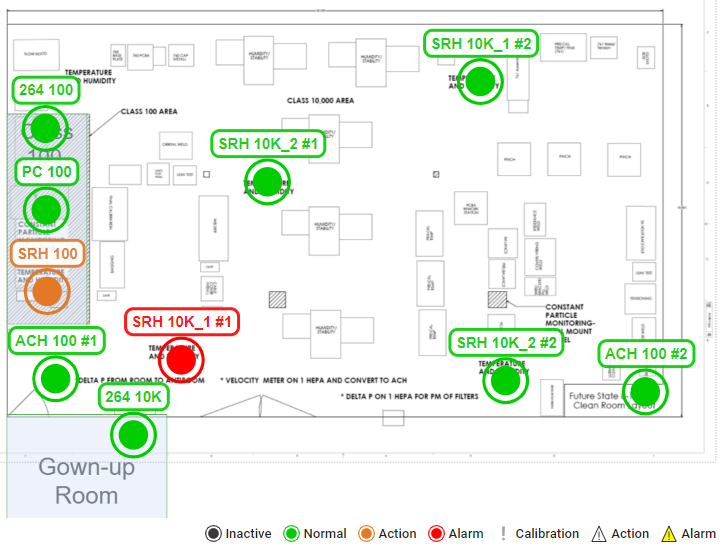 Mitigate Costly and Time-Consuming Corrective and Preventive Actions (CAPAs)
Data collected from CEMS should be analyzed to help identify any adverse trends that could potentially require Corrective And Preventive Actions (CAPAs) to be undertaken. While CAPAs are fundamental to current Good Manufacturing and Quality Management Practices, not every deviation or nonconformance requires a CAPA. An unnecessary CAPA can result in additional costs, process slowdowns and inefficient use of an organization's resources. Prudent establishment of action and alarm thresholds and alarm delays for critical parameters together with a robust notification escalation protocol ensure issues are addressed preemptively. Either through local device displays, browser dashboard alarm observation, email or text notifications, CEMS ensures the right people are notified at the right time with the right information to keep the critical environments within your facilities running smoothly and in compliance.

Constant Audit Readiness - Never Be Caught Off Guard
Whether being audited by the regulatory authorities, customers or internal quality functions, convenient access to comprehensive records of critical parameters, alarms, user annotations and a detailed audit trail are essential. The intuitive CEMS user interface allows for straightforward navigation to specific parameters and timeframes of interest. Reports generated on-demand or on an automatically scheduled basis from the CEMS cloud database are the permanent system of record of the performance of critical environments. FDA 21 CFR Part 11 compliance supporting features and ALCOA+ principles ensuring data integrity have been inherently designed into Setra CEMS from its inception.

Enterprise View - Controlled Transparency
The scalability of the CEMS architecture facilitates its cost-effective application from a single cleanroom at one location to consolidated access to multiple critical environments within numerous facilities located around the world. Furthermore, with the increasing use of CDMOs, supply chain challenges and geopolitical uncertainty, the value delivered through intra and inter organization operational visibility is greater than ever.
Two examples:
A CDMO can easily provide tightly controlled, highly selective access to the environmental parameters within which their customer's products are manufactured and stored.




CEMS can provide an international organization with global, regional, campus, building and room specific information. Access rights and permissions are closely managed to ensure appropriate visibility and functionality is made available to suitably authorized individuals.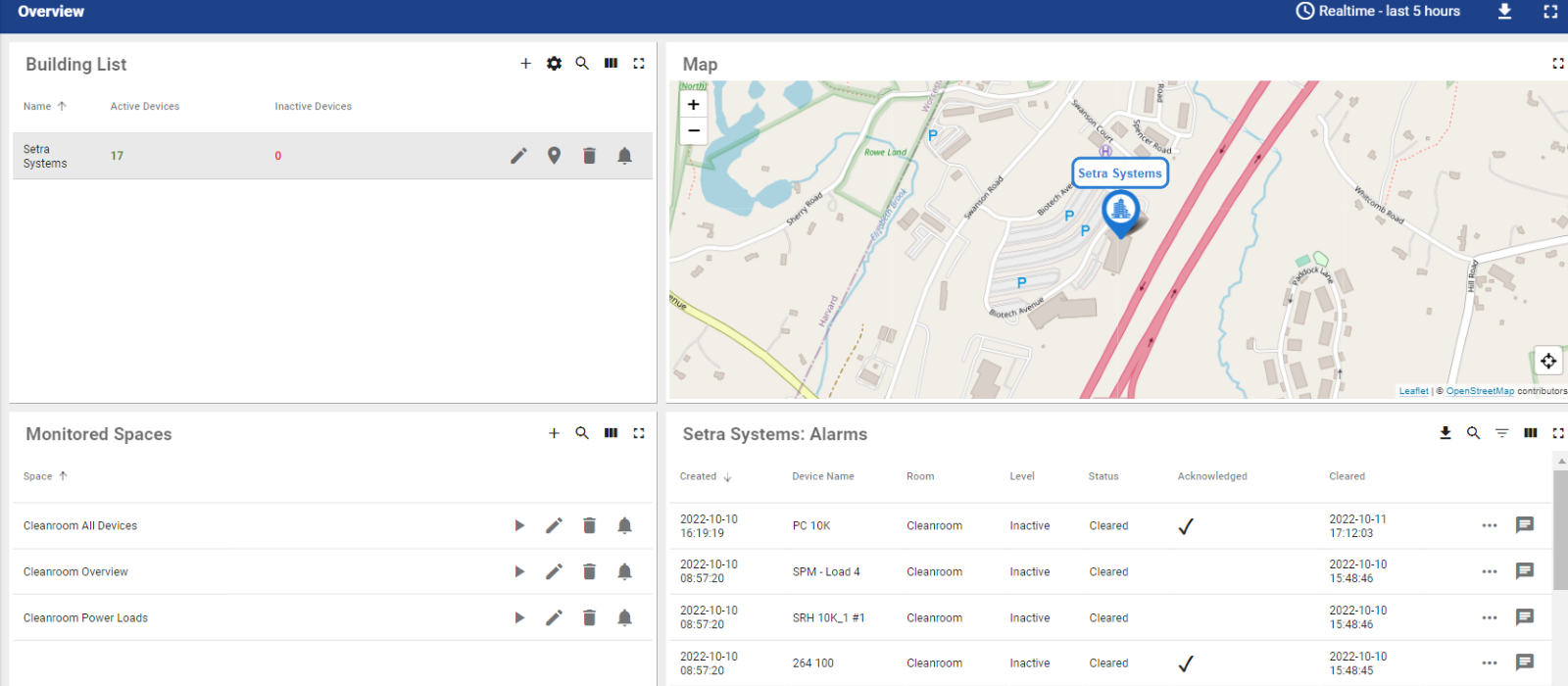 Fill out the form below to gain login credentials to test drive our software and interact with Setra's live cleanroom space.