Traditional vs. Remote Sensor Installation
To better understand the labor and material savings made possible by remote sensors, it is important to compare the traditional method of installing differential pressure transmitters with the new method of installing remote sensors. On a typical job using the conventional method, the mechanical contractor first installs taps with shutoff valves—usually a ball or petcock valve—in the desired locations in the mechanical piping.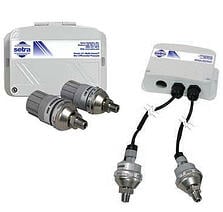 Then the controls contractor must provide a laborer to gather materials, locate the pressure taps, set up ladder access, and stage tools and materials. Next the controls contractor's mechanical laborer/pipefitter hangs the conventional pressure sensor and installs copper piping or flexible tubing between the shutoff valves and the sensor. For the final step, the controls contractor's electrician pulls wire to the sensor and connects them together.
The total labor time in this traditional scenario depends on each application, but it can take upwards of three hours per sensor. On large projects requiring many sensors, the total labor time required for multiple installations adds up quickly.
In contrast with the traditional approach, consider the time savings possible using remote sensors. First, the mechanical contractor installs the remote pressure sensors directly in the hydronic piping. Then the controls contractor hangs the pressure sensor and connects it with cabling or conduit. Finally, the electrician pulls wire to the sensor and connects them together.
The total labor time using the new method is greatly reduced because there is no need to run copper piping. Contractors know that running wire is a much easier and less expensive than copper.
Learn more about the advancements in remote pressure sensing: Download this free whitepaper.