Ensure USP <797> and <800> Compliance
With Setra's trusted room monitors, compounding pharmacies can significantly enhance safety measures and meet the stringent requirements outlined by USP <800> and USP <797> standards. Compliance not only safeguards the well-being of pharmacy personnel but also prevents contamination of medications. Setra's reputation for reliability is exemplified by being trusted in 13 of the 20 top-rated hospitals in the US*. By leveraging Setra's proven monitoring solutions, compounding pharmacies can effectively mitigate risk, prioritize safety, and ensure compliance with regulatory standards.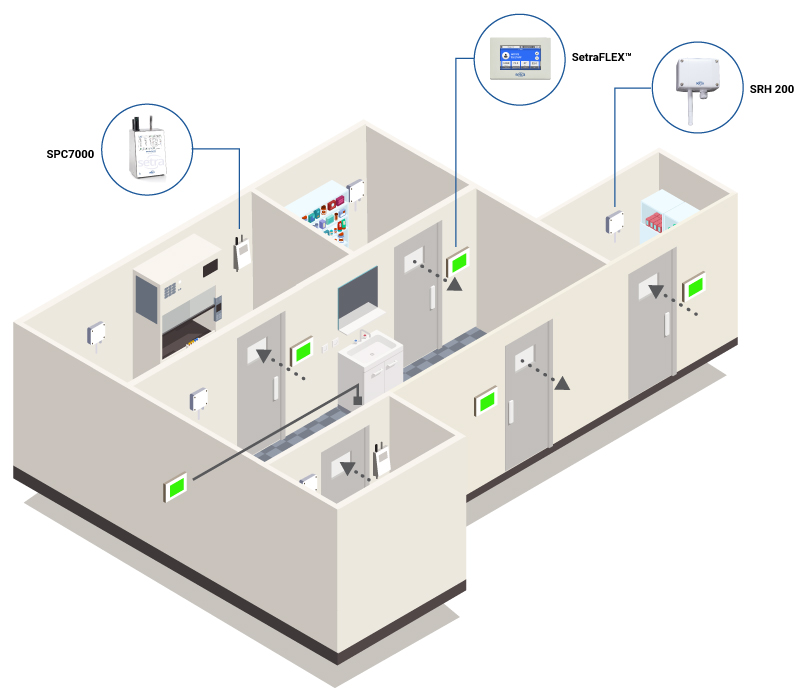 | | | | |
| --- | --- | --- | --- |
| Variable Monitored | Solution | Parameters | Frequency |
| Pressurization to Adjacent Space | Flex | Negative | Continuous – recorded daily |
| Pressure Differential | Flex | .01 - .03 (INWC) | Continuous – recorded daily |
| Particle Counting | SPC8000 | Application Dependent See USP 797/800 | Continuous – recorded daily |
| Temperature | SRH1 | Max 68 (°F) | Continuous – recorded daily |
| Humidity | SRH1 | Max 60 (%) | Continuous – recorded daily |
**Based off of ASHRAE 170 Standards
Setra's Flex and LITE monitors, coupled with the CEMS remote monitoring platform, provide the necessary tools to monitor critical environmental parameters, such as temperature, humidity, and differential pressure, to create a safe and controlled environment for the compounding of medications. By continuously monitoring these parameters, the system helps identify and mitigate potential risks of medication contamination, ensuring compliance with regulatory standards and enhancing patient safety.
Personnel Protection:
Setra room monitors (Flex/LITE) help maintain the necessary pressure differentials between compounding areas and adjacent spaces, preventing the migration of hazardous drug particles and minimizing exposure risks. By adhering to USP <800> guidelines with Setra's reliable monitoring solutions, compounding pharmacies can prioritize the well-being and safety of their personnel.

Compliance Assurance:
Compliance with USP <797> and <800>is vital for compounding pharmacies to maintain accreditation. Setra room monitors ensure adherence to these standards, providing the necessary documentation and data to demonstrate compliance during inspections. By utilizing Setra's dependable room monitors, compounding pharmacies can confidently navigate the regulatory landscape and showcase their commitment to safety and compliance.

Remote Air Quality monitoring:
Setra's CEMS (Continuous Environmental Monitoring System) is a comprehensive solution for monitoring the environmental conditions in compounding pharmacies. CEMS can help to ensure the safety of patients, staff, and the environment by providing real-time data on temperature, humidity, pressure, and air quality.
Other Spaces Setra Covers:
Isolation Spaces
Hospital Operating Spaces
Protected Environment Spaces
Non-Critical Spaces

Product Links:
Flex
SRH1
SPC8000
SRH200
Lite
*Ratings are based off US News and World Report findings