With over 2,000 organizations as featured exhibitors this year, there will be thousands of brand new products being highlighted across over a dozen applications. With only three weeks away from the 2016 AHR Expo, Setra is excited to be sharing its newest lineup of products to attendees. Some of Setra's newest products are:
Setra's MicroCal is designed for use in critical environments that require portability, high accuracy, and

periodic low pressure sensor calibration and documentation to certify regulated processes. Setra partnered with NASA to develop the industry's quickest and most stable pressure control for low range applications. Designed to perform calibration checks on installed pressure transducers, pressure switches, and gauges, the MicroCal offers users selectable automated pressure generation profiles with up to 101 calibration points.
The Setra Difference:
Highest accuracy to support certification of all low differential pressure critical process pressure sensors
True low range dual reference pressure sensors with NIST traceability
Built-in leak test function
The SRIM2 was developed to fill an unmet need in our critical care room pressure monitoring product family. The SRIM2 is built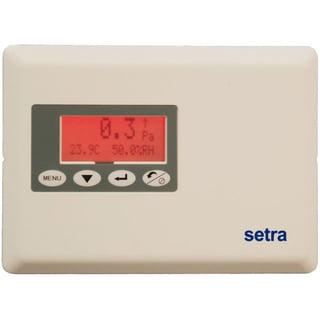 off the platform of the original SRIM1, but has added key features such as multiparameter alarming, velocity measurements, and added inputs and outputs to it's design. It is the most featured differential pressure product Setra manufactures without BACnet communications.
The Setra Difference:
Alarm everything you monitor.
Three color easy-to-see status screen.
Save time and money on installation and calibration.
The Model MRC is Setra's newest differential pressure transducer, and the first multi-range transducer ever designed specifically for use in Critical Environments. Contractors have been waiting a long time to use multi-range products in lab, hospitals, vivarium, pharmaceutical and other critical applications. However, the questionable performance at low ranges has prevented the use of multi-range products in these applications.
The Setra Difference:
The first 0.75% accuracy multi-range transducer of its kind.
Simple 5-step setup.
Field accessible push-button zero & span.
CLICK HERE to register for AHR 2016 in sunny Orlando, Florida!