The OS (operating space) is one of the highest-risk, highest-consequence spaces in a health care facility. Ensuring a sterile and safe environment is crucial to prevent infections and protect both patients and staff. Without proper monitoring and control, the OS can become a breeding ground for airborne pathogens, leading to severe consequences. Setra's innovative solutions address this problem and help healthcare facilities adhere to standards, such as the ASHRAE170 code, to avoid fines, fees, and potential shutdowns.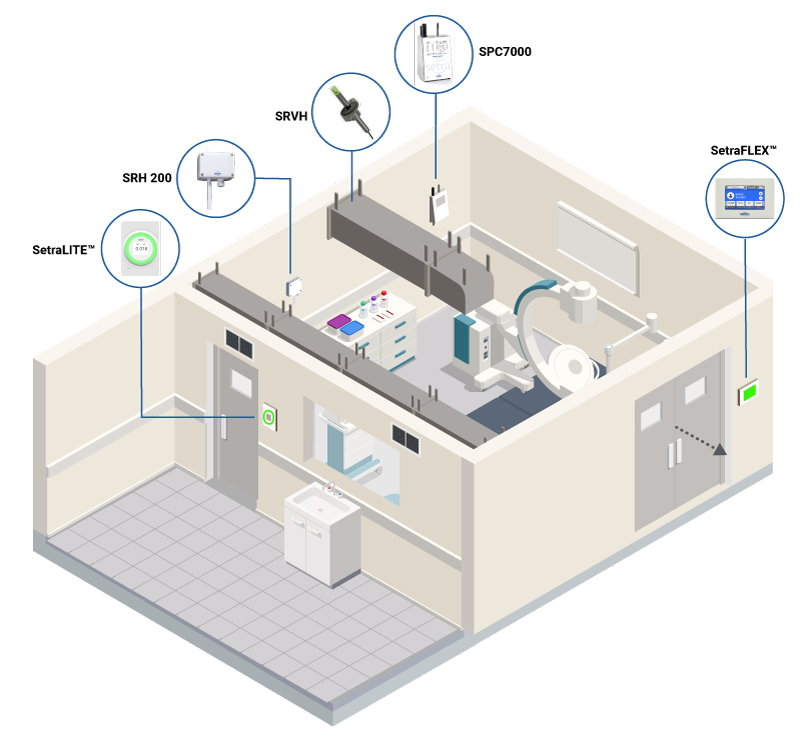 | | | |
| --- | --- | --- |
| Variable Monitored | Solution | Parameters |
| Pressurization to Adjacent Space | Flex/Lite | Positive |
| Pressure Differential | Flex/Lite | 0.01 (INWC) |
| Particle Counting | SPC7000 | Application Dependent See USP 797/800 |
| Temperature | SRH1/SRH200 | 68– 75 (°F) |
| Humidity | SRH1/SRH200 | 20 - 60 (%) |
| ACH | SRVH | 20 |
*Based off of ASHRAE 170 Standards
ASHRAE170 Compliance:

Adherence to the ASHRAE170 standards not only guarantees compliance with industry regulations but also safeguards healthcare facilities from potential fines, fees, or operational disruptions. Achieving and maintaining these standards is seamlessly accomplished through the utilization of the Setra Flex monitor. This advanced monitoring solution continuously tracks room pressure, ensuring strict compliance with the required standards and bolstering overall OR safety.
Maintaining Positive Pressure through Reliable and Accurate Measurement:

The Setra FLEX offers a sophisticated room pressure monitoring solution option that measures a wide range of parameters, while the Setra Lite provides a more affordable and simplified alternative. By using accurate and reliable Setra monitors, hospitals can ensure improved air quality, minimize the risk of cross-contamination, and meet compliance with infection control regulations. Setra monitors are renowned for their precision and dependability, which is why 13 of the top 20 US Rated hospitals implement these solutions in their most critical spaces.
Particle Counters for General Air Contamination Evaluation:

One of the key solutions to combating airborne pathogen contamination in the OR is the use of SPC7000 Particle Counters. These advanced devices allow continuous monitoring of air quality, providing real-time data on particle concentration and general contamination levels. By evaluating the air quality, healthcare facilities can take proactive measures to reduce the risk of infection transmission.
Visualize the OR Environment

The FLEX technology goes beyond simple pressure tracking. It integrates with the SPC7000 Particle Counter and SRH 200 temperature/humidity sensor to provide comprehensive air contamination evaluation. This collaboration allows for a holistic approach to maintaining air quality in the OR, reducing the risk of infections and harm to patients and staff, while maintaining an easily configurable and reliable localized display.

Other Spaces Setra Covers:
Compounding Pharmacies
Isolation Spaces
Protected Environment Spaces
Noncritical Spaces

Product Links: