When first selecting a pressure transducer for a project or piece of equipment, designers typically focus on key design parameters such as pressure range, electrical output, media compatibility and environmental conditions. Unfortunately those parameters do not always tell the whole story when making a smart choice for an application. 3 design considerations that are often overlooked include transducer construction, robust circuit design and the manufacturer's ability to control the design and supply chain of the transducer itself.
1. Robust Construction

When selecting a pressure transducer, the length of time a transducer will last in the application is a critical concern. Selecting a transducer with an all-welded construction enables a robust design that will provide a long life span in difficult applications. Also consider the robustness of the connectors welded on the housing. In the field these units are often exposed to less than ideal circumstances that can compromise the operation of the transducer. Be sure the manufacturer offers a wide selection of pressure fittings, including standards like 1/4" and 1/8" NPT as well as the capability to provide custom process fittings when needed. Some transducers need to be protected from humidity to prevent corrosion around the pins in the connector while more robust transducer designs can be subjected to humid environments.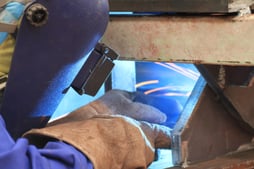 If protecting the transducer from a harsh environment is a concern, find one with an ingress protection (IP) rating that satisfies the needs of the installation. Transducers are available in a wide variety of ratings. A transducer with a rating of IP65 provides complete protection from infiltration of dust and the projection of water from a nozzle. A transducer with an IP67 rating is protected against dust and the effects of temporary immersion of water. An IP69K rating is for high pressure, high temperature applications. If liquid ingress is a risk, sealed cables are a must. When possible, avoid oil-filled transducers because it adds an additional material with a different thermal coefficient that could add to the transducer instability.
2. Robust Circuit Design
A robust circuit design can mean different things to different stakeholders in the process, but is widely know for reliability, stability and protection from extreme environmental or human conditions. Today, sputtered thin film strain gauge technology is considered state of the art for industrial applications. This type of transducer employs the well-proven Wheatstone bridge principle. In this design, molecular layers are sputtered onto a 17-4 pH stainless steel diaphragm, and the circuit is etched to provide excellent resistor definition and uniformity. Sputtered thin film technology allows the design of simple, highly accurate and compact strain gauges to be deposited onto the back of the sensing diaphragm.

This method virtually eliminates drift, while offering enhanced sensitivity. This technology incorporates a compact design with good temperature stability. Since the circuit is etched on, there is no glue or epoxy to break down or separate, which would result in an inaccurate measurement.
In operation, the strain gauge is embedded in the flexible, circular diaphragm, which is wired to a Wheatstone bridge circuit to measure pressure variations. When system pressure is applied to the diaphragm, it is displaced, putting surface strains on the gauge proportional to the pressure. This generates a linear and proportional analog electrical output signal, typically 4-20 mA via two-wires. A robust circuit design not only needs to enable accurate measurement, bu also has to handle mis-wiring, interference (EMI/RFI) and over voltage conditions that frequently occur in industrial applications.
Finally, select a supplier that calibrates and tests each transducer over its entire operating range for stability and linearity before specifying the OEM pressure transducer.
3. Supplier's Supply Chain and Design Control
There is a wide range of OEM pressure transducer suppliers that design and manufacture pressure transducers for an industrial process environment. Go with a supplier that makes most of its own components, has direct control over its printed circuit board assemblies, and has control over its supply chain. In addition, it's recommended to purchase from a company that owns and controls the intellectual property of the transducers' critical design components. Suppliers that own their own intellectual property have the flexibility to customize a product to meet a unique situation.
In most instances, a transducer can be selected from a supplier's catalog or website. But if it's not a clear-cut selection—when extreme temperatures, pressures or environments are involved—it's wise to contact the supplier to review the application. Although the customer may consider the application to be unique, challenging or even impossible, the pressure transducer manufacturer has undoubtedly encountered it many times before, and can advise you on a workable solution. This kind of supplier can discuss the customer's previous problems, field issues, and past failures, as well as provide phone support, technical documentation, answers to questions and recommendations to help ensure it is a long-term successful installation.
CLICK HERE to learn how to select a transducer for industrial applications.