Hospitals are one of the most energy intense buildings on the planet.
As budgets are becoming tighter, many hospitals today are moving towards energy management for cost savings. In breaking down how hospitals can save on energy costs, the first step is to understand what areas of the hospital consume the most energy. Keep in mind that energy consumption varies for each individual hospital based on certain factors such as the hospitals primary function and geographic location.
Where do hospitals consume the most energy?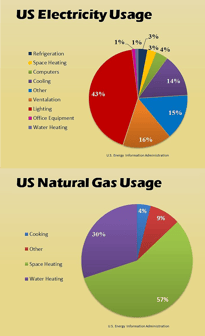 Hospitals energy utilization patterns can be classified into two main categories; electricity and natural gas usage. An average U.S hospital uses 27.5 kWh of electricity and 109.8 feet cubed of natural gas per square foot annually. Figure 1 and 2 break down the categories of energy consumption by end usage. Lighting, cooling, and ventilation account for nearly 73% of total electricity usage. Meanwhile heating accounts for more than two-thirds (87%) of natural gas use.
Between electricity and natural gas use, hospitals consume the most energy through lighting, cooling, ventilation and heating making these systems the best targets for energy savings.
Sources:
https://www9.nationalgridus.com/non_html/shared_energyeff_hospitals.pdf
http://bea.touchstoneenergy.com/sites/beabea/files/PDF/Sector/Hospitals.pdf
CLICK HERE to learn Setra's energy cost saving products.