Discover Heavy Duty and Intrinsically Safe Pressure Transducers
As apart of the 3100 series line, Setra provides OEMs with pressure transducers that have intrinsically safe ratings and certifications, ensuring that they can handle hazardous applications. The Models 32CS and 32IS provide top of the line performance, reliability, and stability at an affordable price. Model 32CS is a heavy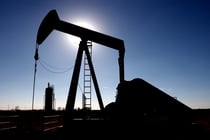 duty intrinscially safe CSA rated pressure transducer, while the 32IS is a heavy duty intrinsically safe ATEX/IECEx certificed pressure transducer.
Models 32CS and 32IS offer:
Exceptional ±0.5% FS accuracy in pressure ranges from 75 PSI to 32,000 PSI; features an all welded stainless steel construction for a robust design and IP67 seal for moisture and humidity protection

A variety of different outputs, pressure connectors, and electrical connectors to satisfy the most challenging application requirements

Voltage units, available with a dual pressure/temperature output.
Built to Last
Models 32CS and 32IS are heavy duty pressure devices with long term stability, product reliability and accuracy built in. The compact welded stainless steel designs are constructed to protect the sensors in the most demanding of industrial environments. Both provide a 3x overpressure (0 to10k PSI) and a 2.5x overpressure (10k to 14.5k PSI) rating, ensuring that the sensors do not fail during unexpected pressure spikes. The electrical connectors are tested to an environmental protection specification of IP67, and a robust internal design ensures that the transducers can survive high levels of vibration.
Best in Class Price-to-Performance
Strain Gauge technology provides a very linear and predictable output signal over a wide temperature range, which enables Setra to provide an inherently stable and accurate sensor elements in high volumes and at low cost. Models 32CS and 32IS sensors are constructed using a highly sophisticated automation process, where the sensors are manufactured in a Class 100 clean room. To ensure best in class accuracy and long term stability, each sensing element is thermally compensated to an accuracy of less than 0.005%°C prior to leaving the clean room for final assembly. Thermally compensating the units ensure improved accuracy and simplified conditioning of electronics, while eliminating the need for calibration over elevated temperatures as transducers.
Unrivaled Quality
Setra understands the importance of quality in OEM applications, which is why we are always looking for ways to improve the quality rating of our products. Over the last two years, the Models 32CS and 32IS failure rate is less than 0.1%, a quality rating unmatched by the competition. The worst thing that could happen to an engineer is to shut down their work because of quality issues. Setra takes this seriously, which is why we have worked hard to ensure that product quality issues will never be a concern for our customers.