Did you know that 60% of all manufacturers require intrinsically safe (IS) electrical devices? Some common industries that are known to require IS include:
Chemical Manufacturing

Pharmaceutical Manufacturing


Energy Production

Transportation of Hazardous Chemicals
1.Chemical manufacturing is extremely dangerous. Within facilities, improper mixtures, incorrect handling, the introduction of extreme heat to the process, or an unintended spark from an electrical device are possible fire and explosion risks.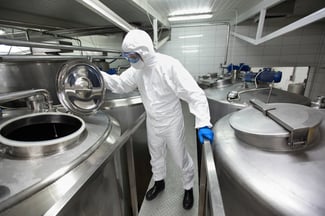 2.Pharmaceutical manufacturing shares the same risk as chemical manufacturing. Flammable solvents such as acetone, isopropyl alcohol, and methanol used in tablet coating can create explosive atmospheres. Similarly, the food industry uses products such as cornstarch, organic pigments, and cellulose that are combustible in powder form.
3.Energy production, including oil refineries, petrochemical manufacturing, power plants and underground mines are energy applications that routinely handle large amounts of fuel or have dangerous concentrations of flammable gases or dust. Consequently, all electronics inside production areas are required to be intrinsically safe.
4. The same safety precautions are followed for the transportation of these fuels as well as volatile and hazardous chemicals. Carriers must use non-sparking breaching tools to prevent the ignition of a hazardous material resulting from a spark. IS radios are used instead of untested radios that could cause ignition in a highly volatile environment.
Other industries that require intrinsically safe products such as pressure transducers, mobile phones, scanners, keyboards, keyboards, sensors, acutators, etc., include automotive, aerospace, grain, fertilizer, tobacco, plastics, wood, paper & pulp, furniture, textile, and water treatment and handling among others.
CLICK HERE
to learn about Setra's intrinsically safe pressure transducers