An important consideration when choosing a T/RH sensor is whether or not it is critical to see the reading on the unit. Whether the sensor is to be wall, duct, or outdoor mounted has an impact on the need for a display, but it is not the deciding factor.
T/RH Sensors Without Displays
A duct mounted unit is unlikely to need a display. Since the unit is concealed in the ceiling, there is no easy line of sight. Depending on the location, some wall and outdoor mount sensor might not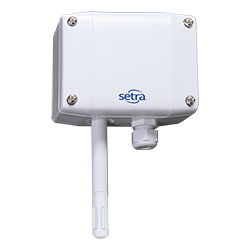 require displays. High accuracy humidity and temperature sensors enabled with BACnet MS/TP will seamlessly connect to a building automation system (BAS) or an environmental monitor. When connected to a BAS or environmental monitor, a sensor does not require a display. Common applications for these sensors include:
HVAC/R Control
Indoor Air Quality (IAQ)
Laboratories
Antique preservation
T/RH Sensors With Displays
A sensor not integrated into a BAS or paired with an environmental monitor would require a display, as that reading could not be obtained anywhere else. For applications where humidity control is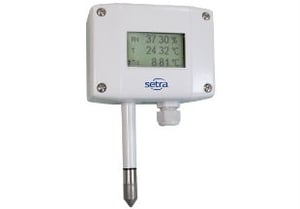 critical, a sensor with a display would be useful for quick checks to avoid having to check a BAS or environmental monitor. Typical applications for units with a display include:
Compounding pharmacies
Industrial manufacturing
BSL & research laboratories
Cleanrooms
The deciding factor for or against a sensor with a display is personal preference. Although some applications require a display, most do not specify, leaving the choice up to you. If you prefer to have a display even in an application where it would be redundant, then choose a sensor with a display.