Can you? Of course you can place a power meter inside an electrical panel depending on the type of power meter. The great advantage of UL61010 vs. UL508, is that UL61010 allows for a meter to be mounted inside of an electrical panel, avoiding costs of installation and additional equipment required. The 61010-1 safety standard states meters must be connected to a dedicated circuit breaker, but does not require the use of fused voltage leads is required as the circuit breaker is present to protect the wiring should an overcurrent situation occur.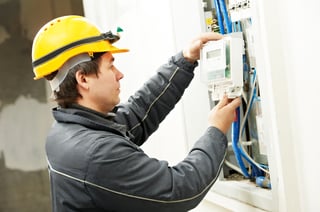 NEC code interpretation allows for a 14AWG wire to be connected to a breaker with a rating up to 150A provided the run is 10 feet or less either in an enclosure or raceway. For example, Setra's Power Patrol is UL listed to the 61010-1 safety standard and doesn't need additional fuses when installed within 10 feet of the breaker.
A concern when placing a power meter is to protect the wiring from catastrophic failure. To protect the power meter from power surge events, such as lightning strikes, another layer of protection or a transient/surge absorber should be added. For example Setra's power patrol contains a 0.5 Amp internal fuse built into the device as well as a transient/surge absorber.
CLICK HERE to learn how to select a power meter.