Did you know that companies spend hundreds of millions of dollars on research and development for off-highway vehicle engines? A portion of the R&D goes into developing specialized engine test stands to ensure that the engines are functioning properly.
Engine test stands are complex, engineered systems designed to measure, control and record parameters during the different engine manufacturing stages. OEMs use engine test stands for testing certain variables of the engine in preset conditions and for verifying the engine's accuracy prior to delivery to the customer.
Due to increasingly strict regulations and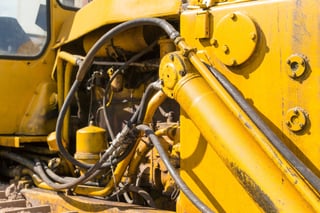 demand for higher quality in certain applications, many engine test stands today contain pressure sensors. There are many types of pressure tests conducted within an engine test stand, such as:
Oil Pressure

Proper oil pressure is necessary in an engine to ensure that all moving parts are properly lubricated to prevent any component failures or engine seizures.
Pressure Type: Gauge

Coolant Pressure

Engine temperature is a key component in prolonging the life of engine components. The coolant system is responsible for distribution of coolant during the test.
Pressure Type: Gauge

Fuel Line Pressure

Internal combustion engines use different fuels to make them run, monitoring the fuel line pressure allows for calculations for efficiency and control of fuel delivery.
Pressure Type: Gauge

Cylinder Compression

Allow for detection of any defects in piston rings, bores & valves during testing.
Pressure Type: Gauge

Pressure Decay

Overall system leak-rate test to ensure there are no missing O-rings, gaskets or any other valve issues or system leaks.
Pressure Type: Gauge

Manifold Vacuum Pressure

This measures the amount of restriction of airflow through the engine. Accurate measurements enable calculations to see the unused power capacity in the engine.
Pressure Type: Vacuum

Dry Airflow

Measuring the back pressure in the engine while knowing the crankshaft position, enables the test stand to recognize missing main bearings or plugged oil cavities.
Pressure Type: Differential

Barometric Reference

Barometric sensors play a key role in the data gathered by a test stand. The sensor reads real-time barometric pressure that can be used for calculations and performance comparisons
Pressure Type: Absolute &Barometric
CLICK HERE to learn why pressure sensors' accuracy is important to engine test stands.